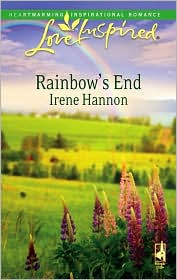 I would highly recommend this book for all those who wanted to read a story about love with the spice of spirituality. I think Irene Hannon did a great job in this book. The story is unique and very inspiring. The faith of the characters despite of the trials that they had made me reflect with my own.
Here's the SYNOPSIS from
http://www.irenehannon.com/synopses.htm
"Broken, empty and alone after a cross-country search for answers, Keith Michaels takes refuge with reclusive artist Jill Whelan when a sudden storm strands him on Orcas Island. Scarred by her own tragedy, Jill expects the disturbing stranger to leave the next day. But Keith finds unexpected solace on her isolated property, and his one-night stay turns into an extended visit when he agrees to build a studio for her. As these two lonely people join forces to help a little boy in need, will they reconnect with life—and find healing, hope and love at Rainbow's End?"
The story is very perfect for the saying that my guy had shared-"If your life sucks today, It doesn't mean it will suck forever."
Life is surely not just about happiness and success. It had stored a lot of trials for us; and these trials are not meant to tell us that God doesn't care nor He's not real. Failures, pain or misery are given to us to test our faith.
I like the prayer of Keith of Rainbow's End when he finally surendered all his worries to God and the prayer goes like this...
"Lord, I thank You for the blessings You've given me thes past two years. Even when I was mired in doubt, even when I was lost in darkness, even when I turned my back on You, I realize now that You were by my side. Just waiting for me to turn to You, to ask for help without demanding answers. To take Your hand in trust, as a child takes the hand of a loving father, knowing that He will be protected and cherished and guided safely through danger. I'm sorry it took me such a long time to see the light. To understand and accept the very words....-Come to me, all you who labor and overburdened, and I will give you rest."
I know it is not easy to surrender our burdens, bitterness and anger to the Lord but once it is done life would be easier to live. God did not promised that His way would be easier but trusting Him will make it easier for you to take.
Take advantage with your troubles to be closer to Him. Trust the Lord and take His hand and soon you will find rest.
Have a blessed day everyone and enjoy reading!