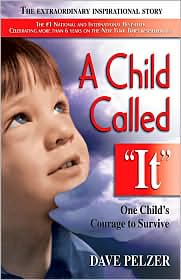 This autobiographical story is about the most severe child abuse cases in California history. It relates how David Pelzer was beaten and starved by his mentally and emotionally unstable alcoholic mother. He was nearly killed by starvation, poisoning and a stabbing.
Dave as if lived with demons from 4-12 years old. The story is just too cruel to be true. It is worst than Sybil. It may serve as strength and inspiration for some but for me the story is disturbing.
I wonder how come the medical team, the neighbors, the teachers and most especially his father didn't do anything about it.
The medical team, such as nurses, are taught how to identify cases of abuse. I wonder how come they didn't notice something is wrong with the child.
The neighbors and the teachers should have notice that Dave was being abused by his mother by the way he acts and his clothes.
I wonder how come his father didn't do anything while his mother didn't feed him for 10 days. I wonder how come it was ok for his father that his mother feed him with some vomitted foods scooped from the toilet.
Most of all, I wonder how come Dave didn't say anything when his mother forced him to eat his brother's shit while she put his face in the soiled diaper, when his mother "accidentally" stabbed him, and when his mother forced him to stay in the tub, naked with frozen water.
It is a crazy story. It is a crazy book. It is so cruel that questions has been raised about it's authenticity. It became a controversy because of the statements of his brother, Stephen Pelzer, and grandmother, Ruth Cole against his stories.
A Brother's Journey,
on the other hand is a book written by Richard Pelzer who supported the story of abuse.
The good thing despite of the controversy about the book is the hope it gave for its readers. It gives an inspiration to other people that despite of all the traumatic events in Dave Pelzer's life he still manage to survive and have a good life. It is a story that tells us that after a dark night, morning will still come.
Read it so you will understand what I am saying but it is really a disturbing story.